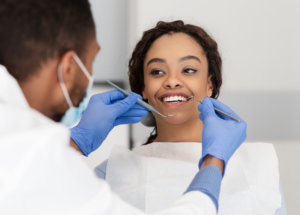 To qualify for tooth replacement procedures that involve using one or multiple dental implants, the patient must have a healthy and sufficient jaw bone. Dental implants are sturdy and become permanent through growing or assimilating into the jaw bone after placement. Without a dense bone, implants cannot do what they are designed to do, nor will we allow them to be placed. At North Auburn Dentistry, we see patients who have missing teeth and suffer from a bone deficiency. Since Dr. Brandon Dever and the rest of our expert dental team in Auburn, California, are here to serve you in every possible way, we offer a bone grafting procedure.
What is Bone Grafting?
A bone graft procedure is designed to add volume and density to an area in the mouth where bone loss has occurred. To add thickness, your dentist can complete a bone graft through the use of your tissues being removed then moved to the damaged area or by using donated tissue. Once the bone graft material has been relocated to the damaged area, we leave space for your mouth and body to do repair work. New bone tissues will then start to regenerate and grow around the graft.
Am I a Candidate for Bone Grafting?
Generally, if a patient is seeking a dental implant and has bone loss or damage, they qualify for a bone graft. It is impossible to know if your bone has lost volume and density without the diagnosis from a dental professional such as Dr. Dever. Your dentist might suggest a bone graft to patients who:
Need to have a tooth extracted
Need to rebuild jawbone to receive a complete set of dentures
Are acquiring a dental implant
Have suffered from a severe periodontal disease that has damaged bone
Have had missing teeth for an extended time, possibly damaging/deteriorating the bone
Types of Bone Grafts
Your dentist can complete different bone graft procedures to determine your level of bone loss.
Socket Preservation: A bone graft can be placed right into the socket after a tooth is extracted. Setting the bone graft here can prevent tooth sockets from caving in.
Ridge Augmentation: When teeth have been missing for a while, the jawbone will most likely be thinner than before. This type of graft can increase the width of the bone so it can be a strong foundation for restorations.
Periodontal Bone Graft: From experiencing severe periodontal disease, it is more common than not for the patient to have suffered from bone erosion. The disease eats away the bone, making teeth loose and risk falling out. Your dentist can secure the bone graft around an existing tooth to reduce tooth mobility.
Advantages of Bone Grafts
The main benefit of having a bone graft procedure performed is opening your options regarding restorative procedures. Your overall quality of life and confidence in your appearance will increase from getting a restoration for a missing tooth or teeth.
Bone Grafting in Auburn, California
Do you live in or are you located near Auburn, CA, and need a dentist? Look no further than Dr. Brandon Dever of North Auburn Dentistry. We are more than happy to answer any questions or concerns regarding a bone grafting procedure. Please give us a call to set up an appointment to have a consultation with Dr. Dever to determine whether you are a good candidate for a bone graft. We enjoy helping our patients restore their smiles into something they love.