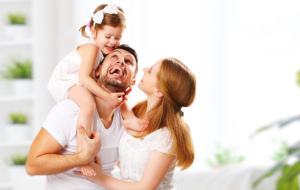 At North Auburn Dentistry, we ensure our patients receive the highest quality of dental care. When searching for a new dentist, it is important to select a dental home where the entire team has you and your family's best interest in mind. If you are new to the area and are in need of a family dentist with a wide variety of treatments available, you are in the right place!
We encourage you to continue reading to learn more about the type of family services that we offer.
Pediatric Care:
As a family-centered dental office, we are specially trained to provide excellent care in a way that eases and comforts our patients. Children experience things differently than adults and can be nervous to come to receive dental care. For our younger patients, we take the time to explain each procedure and show them the instruments that will be used.
For our patients who experience anxiety surrounding the dentist, we offer minor forms of sedation dentistry that can be administered during any treatment. If you or your child has anxiety around visiting the dentist, we would love to talk more with you privately to learn more about what we can do to accommodate.
Wisdom Teeth Removal:
It is common for patients around the ages of 17-25 to undergo wisdom teeth removal surgery to maintain the health and appearance of their smile. In traditional, general dental offices, it is common to refer patients out to an oral surgeon to remove their wisdom teeth. Here at North Auburn Dentistry, we have the tools and professionals needed to complete this procedure right here in our office.
Dentures:
Over time it is possible that your teeth can start to lose strength or deteriorate from the lack of oral hygiene. For our adult patients who have multiple teeth missing, we can help give you a brand new and bright smile with dentures. We ensure that every set of dentures we make perfectly fits in the patient's mouth and is tailored to their specific needs.
Bring your Family In!
Along with these treatments that could benefit patients of any age, we also deliver professional routine cleanings in the Auburn, California, Area. We encourage you to continue to browse our website to learn about the other dental treatments we offer. Our goal is to have every patient leave our office with a clean and beautiful smile that they love.
Give us a call at North Auburn California to schedule any appointments or to ask any questions regarding services or treatment.