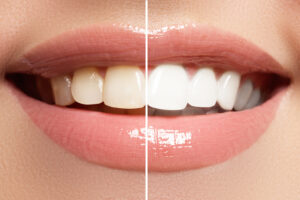 A white, dazzling smile can significantly improve your self-confidence and help you feel satisfied with your appearance. When you visit North Auburn Dentistry for an appointment with Dr. Dever, you can boost your look faster than with any makeover with the right qualified teeth whitening treatments.
Our teeth whitening procedures at North Auburn Dentistry take under half an hour, so even if you're short on time we can improve your smile. We start by using a rubber dam to shield your gums and then apply a concentrated solution of hydrogen peroxide straight to the teeth. After that, we will typically use a handheld light to activate the bleaching solution, allowing for quick, continuing whitening. Depending on how much you want your teeth whitened and whether you have crowns, porcelain veneers or other cosmetic dental treatments, we will leave the bleach on for up to two hours. The length of the bleaching procedure is contingent on how white you want your teeth or if you have crowns or other cosmetic treatments on your teeth.
How long does professional teeth whitening last?
Effects of teeth whitening treatments differ between patients. However, we guarantee that our qualified dental team will provide you with more than satisfactory results. After just one treatment, your teeth may remain brilliant and bright for up to one year or sometimes much longer, and in other cases permanently. We'll design the trays to your teeth if you choose to use them. Then, we'll send you home with powerful gel and provide you with application directions.
Qualified whitening may seem costly upfront, but the cost of using multiple, often unsuccessful, over-the-counter trays considerably surpasses the cost of professional treatment. If you use our professional teeth whitening trays, you can anticipate better and longer-lasting results than if you choose in-office whitening only.
What is follow-up care for teeth whitening?
Your diet, whether you smoke and how you care for your smile will also affect how long your professional tooth whitening lasts. If you drink coffee regularly, for example, your teeth will blemish rather quickly. Nevertheless, you can try using a straw for dark fluids to mitigate this effect. We also recommend evading soy sauce, mustard, ketchup, dark tea, red sauce, cola and red wine. This is particularly important in the first few weeks after your teeth whitening service. It's also imperative to brush and floss at least twice daily. Be sure to ask the team in our Auburn office any explicit questions you have about your follow-up regimen.
Contact our Auburn Clinic Today
Professional teeth bleaching in our Auburn, California dental clinic can last numerous years and works immediately. Contact us for an appointment with Dr. Dever today.