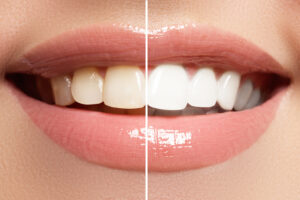 At North Auburn Dentistry, we believe everyone deserves a white smile. Teeth whitening offers a non-invasive, quick, and effective method for beautifying your smile. We have the resources to give you a transformative treatment that will shock your family and friends. Our team uses state-of-the-art technology to provide the best professional teeth whitening in Auburn, California. 
What is Teeth Whitening?
Teeth whitening is a popular cosmetic procedure that whitens teeth. North Auburn Dentistry offers professional teeth whitening that can whiten your smile by several shades. We've refined our process to be safe, effective, and durable. Teeth whitening treatment takes less than half an hour to complete. 
What are the Benefits of Teeth Whitening?
Aside from cosmetic reasons, teeth whitening boosts many long-term and immediate benefits. A few of them include the following: 
Immediate Results.

Teeth whitening is a long-term investment for you and your smile! The process is quick, efficient, and painless. We value your time and won't waste a second. You can easily fit a teeth whitening session inside a lunch break.

Self-Empowerment.

It's easy to act your best when you look your best. Wake up each morning with a pearly-white smile that'll leave others awestruck. Looking in the mirror will become a part-time hobby, as your smile will match your personality. 

Cosmetic Boost.

A bright smile goes a long way in social circles and professional situations. Impress your client with a clean, trustworthy smile, or dazzle your friends with a bright smile. Give yourself a cosmetic boost that'll empower you in every aspect of life.

It's Personal.

Every mouth is different, and yours is no exception. We approach each set of teeth with a unique, personalized approach. With professional teeth whitening, we discuss your goals and how to reach them. 

Better Pictures.

Pictures are worth a thousand words, so you must look your best in each one. You'll look better in every selfie and family photo you take. Seal precious memories with your loved ones with pictures that capture your beautiful smile. 

Improve Hygiene.

Stains aren't good for your teeth. Over time they can cause discoloration and cavities. Teeth whitening removes these stains and makes your smile look better all at the same time. 
Are Teeth Whitening Safe?
Yes! Your safety and comfort are critical to us. Our professional teeth whitening treatments are safe and FDA-approved. Before teeth whitening, we'll go over the entire procedure and address any concerns you might have.
How to Care for White Teeth?
Having a bright smile is one thing, and caring for them is another. It's vital to establish healthy habits that'll keep your teeth glowing: 
Brush Properly.

Don't brush too hard, as it can damage the tooth's enamel. Instead, focus on a gentle, circular motion. Proper brushing will preserve your tooth's outer shell and keep it stain-free. 

Remember to Floss.

It can be challenging to remember to floss. Despite this, flossing is incredibly beneficial to your oral health. It removes plaque and stuck debris and helps prevent cavities. 

Avoid Stain-Prone Foods.

Some foods stain more quickly than others. For example, coffee, soft drinks, and red wine stain teeth easier than others. Smoking and tobacco are also horrible for oral hygiene and can stain your teeth. 

Regular Dental Cleanings.

Bi-annual dental cleanings are essential for oral health. They remove plaque, clean the teeth, and check for potential decay. Our fluoride treatment will leave your teeth shiny, slick, and smooth. 
Teeth Whitening in Auburn, California 
Teeth whitening offers everyone the unique opportunity to boost their cosmetic appearance, increase confidence and improve their oral health. We offer a patient-focused experience that centers on extraordinary care, long-lasting results, and qualified staff. Dr. Brandon Dever and our team are excited to take this life-changing journey with you.