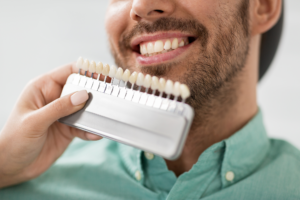 Do you want vibrant teeth? Are you looking for non-surgical alternatives to improve your smile and align your teeth? If so, it's time to consider porcelain veneers to help give you the dazzling smile you have been working towards.
Porcelain veneers are the best fix for many problems facing Auburn, California patients and their smiles. Dental veneers can remedy stains, cracks, chips, gaps, worn teeth, misalignment and improper size. Veneers are fashioned from thin layers of porcelain that are designed to protect the front of the teeth and can reduce a variety of bothersome cosmetic dental problems while giving you a gorgeous, natural-looking smile.
What are Porcelain Veneers?
Porcelain veneers are created using a narrow layer of material that is bonded directly to the surface of your teeth. Each veneer is designed right in our dental clinic in Auburn. After we gently grind and pumice the enamel surface of your teeth, we will design a mold so we can get the contour of the veneers just right. At your next appointment, we will attach the veneers using a special bonding fluid. We make a number of sedation routes available to all our dental patients, but these treatments are known for needing little to no anesthesia for most patients. Our dental team can do the job expertly, and you'll go home with the stunning smile you've always wanted. These treatments are enduring and a great way to fix slightly misaligned teeth and close gaps without braces.
What You Can Expect from Traditional Veneers
If you solely want veneers for cosmetic reasons, or if your teeth have experienced injury, we will prepare the surfaces of your teeth, and then construct temporary dental veneers. You will leave the office with a mock-up of newly designed teeth on the same day as your planning appointment. While you regulate to your new smile, our visionary dental ceramicist will design your ultimate porcelain veneers.
After your dental veneers have been constructed, the final step is bonding. Our caring dental staff will fuse the porcelain veneers solidly to the front of your teeth. After the long-lasting dental veneers are placed, it is necessary for you to come into the office for a post-operative check-up so we can guarantee your smile is everything you hoped it would be.
Porcelain veneers contrast from dental crowns because they shield the entire front surface of injured teeth. While our tooth-colored fillings are almost indiscernible, they only fix the damage. Veneers, on the other hand, take just a few steps to whiten and straighten teeth permanently.
Prepless Tooth Veneer Placement
While not everyone who selects dental veneers is a candidate for prepless veneers, this is the choice we mention most often. During the fitting of these custom-made dental veneers, no important tooth enamel is removed. We have a variety of no-prep dental veneers to choose from, including Lumineers.
Lumineers are a special kind of dental veneers made from patented cerinate porcelain. They are narrow and don't need the abstraction of any enamel, so we can usually finish your cosmetic dentistry treatment in just one visit. Another advantage of Lumineers is that if required, they can be replaced or removed with little trouble. Whether you choose conventional porcelain veneers or progressive Lumineers, we are certain that you will be amazed at the results.
Why Choose Prepless Veneers?
Patients who are dealing with any of the succeeding issues are perfect candidates for prepless veneers:
Chips: It can be embarrassing to deal with a chipped tooth. We can use a prepless dental veneer to help improve the appearance of a chipped tooth and leave you with a beautiful smile.
Cracks: While cracks in teeth might simply seem like unpleasant imperfections, they can instigate other issues when it comes to talking and chewing. Using a prepless porcelain veneer, we can help mend a cracked tooth to help you eat, smile and speak with confidence.
Gaps: Selecting prepless porcelain veneers can lessen spaces in your smile, making your teeth look better than ever. These veneers will not be located below gum tissue.
Mild Misalignment: Veneers allow you to obtain a perfectly aligned stunning smile without using braces.
Worn Tooth Enamel: Your tooth enamel becomes tarnished and worn out over time, but prepless veneers can restore that luster without bleach.
Call Our Auburn Office Today
If the state of your teeth keeps you from sharing your smile with the world, call North Auburn Dentistry today at 530-392-4132 to set up an appointment or consultation.